Contact info
.(JavaScript must be enabled to view this email address)
NEWS / genaral
Welcome to my new web lair, a little outpost of howls, wags and soothing cups of tea out here in the far reaches of cyberspace. Very nice of you to drop by! Feel free to take off your travelling gear, shake the dust off your fur/feathers, wipe your paws/claws and get comfortable.
Did I mention that I am releasing a new record? On vinyl this time, since some of you have been requesting this format – and hell, just because I like vinyl too – fond memories of being alone at home as a child, lurking in a corner of the sitting room, listening to my mum's records and dreaming about the possibilities of music, love and the wide, wide world. So it's an experiment I thought I should try at least once. The whole record will also be available for digital download as high quality mp3 files here online.
This record is called "
Joyful Distortion
", and as usual (if I may say so myself), the cover art is lovely – drawn by one of my nearest and dearest, a wild, far-wandering and friendly wolf in human clothing called Mido – among other names.
Why "Joyful Distortion", you ask? Ah well, that's a good question, and I could give you several different answers - in exchange for you first telling me your associations, of course.
But let's save it for tomorrow, because I have a date with the dashing Mr. Sheman to practice some acts for his (with assistance from yours truly) show in December at Blitz, and you look in need of rest and a bite to eat, and then maybe you'd like to come out to my release party this evening?
Doors open at nine, it's at
Taxi Take Away
in Oslo – see you there, I hope!
Wags!
eKoyote~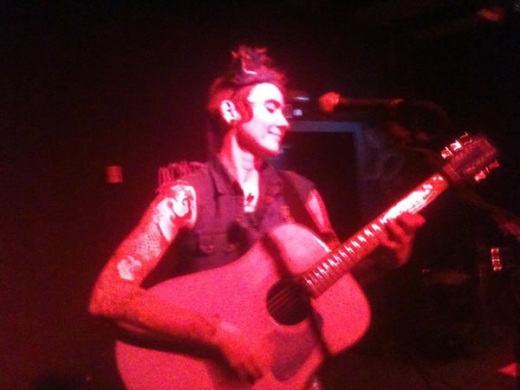 Live, Blitz, 2012
---
June 2022
M
T
W
T
F
S
S
30
31
01
02
03
04
05
06
07
08
09
10
11
12
13
14
15
16
17
18
19
20
21
22
23
24
25
26
27
28
29
30
01
02
03
---