Contact info
.(JavaScript must be enabled to view this email address)
NEWS / stories
One day, Koyote was wandering the forest, humming a new song, when she spied the most beautiful, shiny stick. She pounced forward with a bark of joy, then bounced back with a startled yelp when the stick hissed loudly and coiled into an angry spiral! No stick at all, but a deep black snake, soaking up sun and dreaming of strange music.

"Sorry", said Koyote, "I thought you were a stick! I mean, uh in the most stick-positive sense! So…err…my name is Koyote, and, um, may I ask your name?"
"I am The Ssssnake", hissed the snake proudly. "I have been called many names, but I answer to few." She eyed Koyote unblinkingly. "I have not seen you in thisss part of the forest before. What brings you here? Apart from sticksss…"

"Well" said Koyote, "I was wandering new paths, to strengthen a new song I am working on." "A singer, eh? And will you sing some of thisss new song for me?" Asked the snake. Koyote nodded, and howled the tune - she was still working on the words.

The snake looked surprised. Because it was the very same music she had been dreaming of in the sun, before she was so rudely interrupted. She chuckled to herself. "Well, now", she said to Koyote, "this is rather interesssting. My lair is not far from here. May I invite you for a cup of tea? I have a rather excellent home-made blend of dried mouse and inky mushroom."

"Oh, yes please!" Koyote was delighted! The Snake was by far the most interesting creature she had met all week, and she loved tea. Besides, she could feel the new song growing more words and stronger harmonies already – this was obviously a fated meeting and a fertile connection.

"Thisss way!" The snake smiled, and slithered between the trees. Koyote padded after, joyfully wagging her tail.

…and if you want to hear the rest of the story… you'll just have to keep up and help us make it up as we go along...

Gothenburg, Copenhagen, Hamburg, Berlin, Dresden, Prague, Munich, Zurich, Lausanne?, Nancy, Karlsruhe, Frankfurt, Køln?, Bremen, Fredrikshavn, Oslo.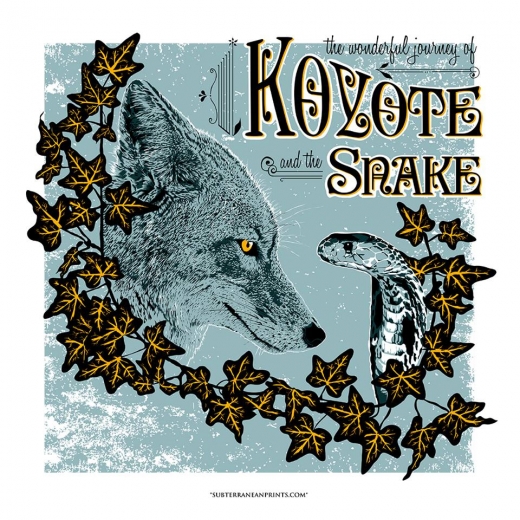 ---
...and demonic releases
I should probably get better at actually writing about gigs and such here on my webpage BEFORE they happen, rather than telling you about them after the fact. But hey, I am practicing this wandering minstrel and occasional poet business, and at least nowadays I usually manage to post something on Facecrack(book) a few days before. Also, I have stopped actively keeping it a secret that I will be playing somewhere, for fear that people might actually show up to listen. Grand improvements and massive steps, in other words!
So, anyway, on May 16th I had the great pleasure of warming up a crowd of lovely people for Drømmedolker, Bård Tjelta's (of La Casa Fantom) solo/side/singer-songwriter project. Thank you, everyone, who made that such a perfect evening! Including those of you who were walking by, but stopped to stare in through the large window at the weird person performing in a floor length dress, fairy wings and pointy ears, with a bushy tail, bushy legs and a guitar.
Bård and I were playing at
Sound of Mu
, one of my favourite little neighbourhood places in Oslo. The evening was in celebration of the release of Fredløs nr 5: The Wall - his latest collection of drawings. It's a story about a clever man and a gang of demons who one day experience a profound transformation. He was also exhibiting and selling some of his other drawings and prints. You can contact him via email (bard at lacasa.com) if you want to buy an issue (or several) of Fredløs, his records, or an original drawing or limited print. I highly recommend it. My personal collection of his art is starting to become limited by an imminent lack of wall space - it will just have to become a "rotating" exhibition.
Speaking of performances and gigs, earlier this week I sat in awe at the National theatre as Marte (a.k.a. Sheman) and I experienced Thea Stabell perform "Babettes gjestebud" by Karen Blixen as an 80 min long monologue - with the audience hanging on her every word. Very, very, very good.
Then I went to the best concert I have been to in ages - thanks to the hard working
FemmeBrutal
crew. They had managed to lure Little Annie and Baby Dee, and their excellent violinist, to Oslo and Mir - and thank all the great trickster spirits for that. Holy fuck, what a concert. My face hurt afterwards from smiling so much. Bloody brilliant. Go to their gigs, buy their record, but most of all GO TO THEIR GIGS. Impressive and inspiring.
Oh yeah, and this Saturday I will be serenading the good people and dogs of Oslo's friendly wagon place, Brakkebygrenda, and hopefully you too! You can look forward to an acoustic orgy starting at 18.00, featuring Koyote (yeah, me), Drømmedolker, Redwood, The Muerto, Freaky Oscar... and God(dess) knows what/who else. Come and spread the lurve. Wags!
---
News on recent releases from yours truly & talented friends
In case you don't already know: I will be bringing copies of the vinyl of Joyful Distortion on tour... and also copies of the first volume of "Spiral Tails", a series of illustrated stories I am releasing in collaboration with talented friends - this one is called "Koyote and the missing verse". Story by me, artwork by the lovely Mr. Bård Tjelta (of La Casa Fantom and Drømmedolker).
Did I mention I have also recorded a new song cycle/record/whatever you want to call it? It is being mixed and mastered in the forest as we speak. I hope to have the cover art with me on tour, in a nifty format I think you will enjoy. I will also probably make some cds, and then post the songs online for "suggested donation" when I get home - can't afford to print it on vinyl before I've sold enough of Joyful Distortion, Spiral Tails, previous cds & merch...

---
June 2022
M
T
W
T
F
S
S
30
31
01
02
03
04
05
06
07
08
09
10
11
12
13
14
15
16
17
18
19
20
21
22
23
24
25
26
27
28
29
30
01
02
03
---