Contact info
.(JavaScript must be enabled to view this email address)
NEWS / gigs
Saturday April 18th I will be the crunchy queer filling in a yummy folk sandwich at MaksiTaksi, one of a couple of friendly, collectively owned and run bars in Oslo. I am waggily excited about sharing the stage with the multitalented Herr Pedersen (Norway) and one of my favourite Swedish folk howlers Dan Fägerquist.

Dan has translated and performs a selection of songs by Vladimir Visotskij - a Russian poet, actor and singer who died much too young in 1980, but left behind some amazing songs. Dan playing and singing Visotskij is a bit like being sensitively run over by a steam locomotive. Worth experiencing, in other words.

Also - here are some random snapshots from one of my rambles. Because, you know, these little moments...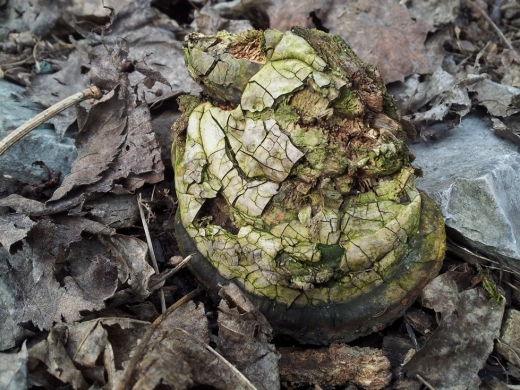 Old, cracked and beautiful.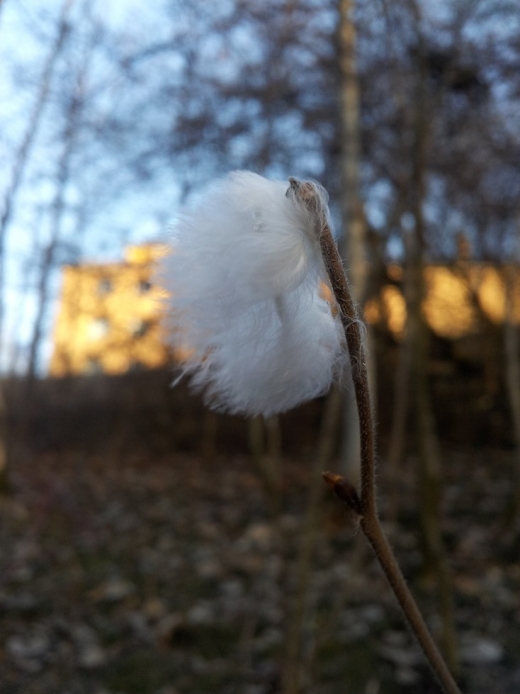 My kind of flag.
The little known Norwegian nailshroom
---
Benefit in support of Ship to Gaza
I was very happy when my friends in Ship to Gaza asked me to be the acoustic intro to their day of information, action and music in support of the new ship they are organising! Help spread the word!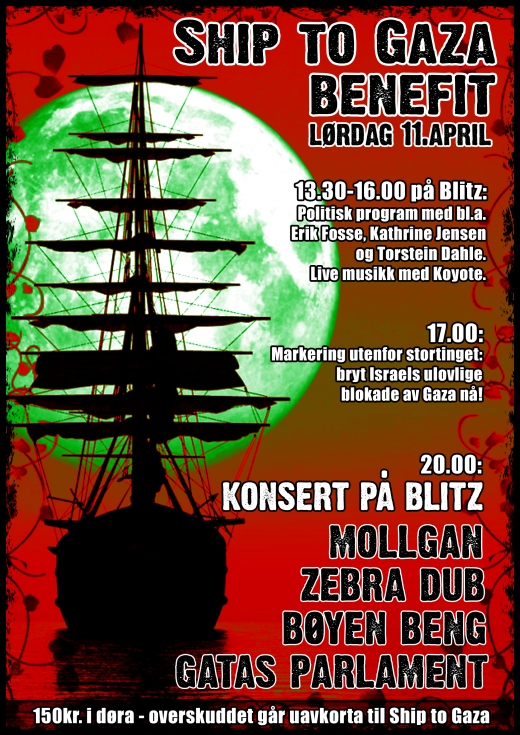 ---
Please check events on Facebook - hope we see you on the road!
---
One day, Koyote was wandering the forest, humming a new song, when she spied the most beautiful, shiny stick. She pounced forward with a bark of joy, then bounced back with a startled yelp when the stick hissed loudly and coiled into an angry spiral! No stick at all, but a deep black snake, soaking up sun and dreaming of strange music.

"Sorry", said Koyote, "I thought you were a stick! I mean, uh in the most stick-positive sense! So…err…my name is Koyote, and, um, may I ask your name?"
"I am The Ssssnake", hissed the snake proudly. "I have been called many names, but I answer to few." She eyed Koyote unblinkingly. "I have not seen you in thisss part of the forest before. What brings you here? Apart from sticksss…"

"Well" said Koyote, "I was wandering new paths, to strengthen a new song I am working on." "A singer, eh? And will you sing some of thisss new song for me?" Asked the snake. Koyote nodded, and howled the tune - she was still working on the words.

The snake looked surprised. Because it was the very same music she had been dreaming of in the sun, before she was so rudely interrupted. She chuckled to herself. "Well, now", she said to Koyote, "this is rather interesssting. My lair is not far from here. May I invite you for a cup of tea? I have a rather excellent home-made blend of dried mouse and inky mushroom."

"Oh, yes please!" Koyote was delighted! The Snake was by far the most interesting creature she had met all week, and she loved tea. Besides, she could feel the new song growing more words and stronger harmonies already – this was obviously a fated meeting and a fertile connection.

"Thisss way!" The snake smiled, and slithered between the trees. Koyote padded after, joyfully wagging her tail.

…and if you want to hear the rest of the story… you'll just have to keep up and help us make it up as we go along...

Gothenburg, Copenhagen, Hamburg, Berlin, Dresden, Prague, Munich, Zurich, Lausanne?, Nancy, Karlsruhe, Frankfurt, Køln?, Bremen, Fredrikshavn, Oslo.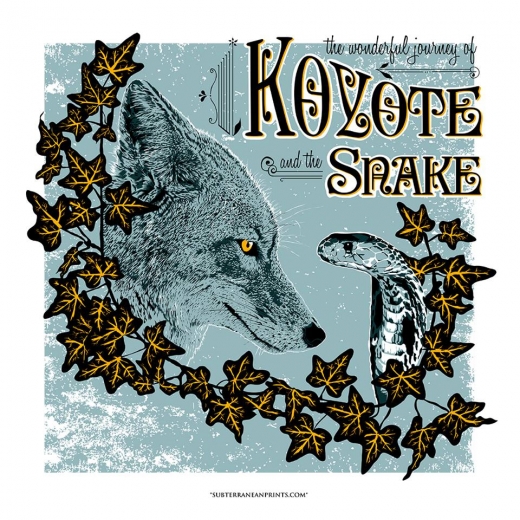 ---
Get your own pocket Koyote~!
In October I will be touring with the talented, lovely and mysterious woman behind Subterranean Prints - who has also made me new calling cards! Pretty nifty, eh? Finally, you can get your hot, sweaty little paws/claws on a pocket sized icon of me that you can carry around and use to remind yourself to laugh at farts and not take yourself too seriously. Anyway, in October you can also enjoy the real, live me and my slinky friend on piano on a stage (or box, or whatever) near you, at least if you are in Sweden, Denmark, Germany, Prague or Northern France. Keep your eyes and ears peeled for Koyote and The Snake! The plan so far:

08.Oct Gotheborg
09.Oct Copenhagen
10.Oct Hamburg
11.Oct Berlin
12.Oct Dresden
13.Oct Prague
14.Oct Munich
15.Oct Winterthur/Zurich? Not confirmed.
16.Oct Dijon
17.Oct Nancy
18.Oct Karlsruhe
19.Oct Frankfurt
20.Oct Koln? Not confirmed
21.Oct Bremen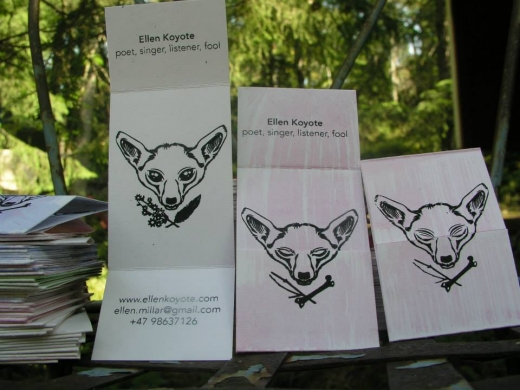 New calling cards by Subterranean Prints.
---
After a brief interlude...
...of some months, I will be updating my pages more often again. A long and fascinating story featuring visits to strange lands, jets of boiling water, biblical floods, exile, temporary housing, impressive teamwork and of course love, death and dogshit. I will bore you with snippets of it next time I play a gig in your neck of the woods.

Speaking of gigs - will update events with details soon, but will be playing in Oslo on May 14th at Blitz, May 28th at Maksitaksi, June 14th at Sound of Mu, aaaaand in Horten on June 21st at a roots and reggae festival...think I will have to claim roots - I love good reggae, but I'm not sure I'll be making anything like Willy Nelson's reggae album soon...

See you around!
---
June 2022
M
T
W
T
F
S
S
30
31
01
02
03
04
05
06
07
08
09
10
11
12
13
14
15
16
17
18
19
20
21
22
23
24
25
26
27
28
29
30
01
02
03
---